But it's not what you might think.
The third movie in the Bridget Jones trilogy is set to hit theaters in September and some brand new posters were just released. Are you excited? I'm very excited, because I will always and forever have a soft spot for Helen Fielding's London heroine and all of her wacky chain-smoking, calorie-counting, binge-drinking, barrister-shagging antics. Even though the movies have all been sort of dumb, whenever they are on TV during a lazy Sunday afternoon I am powerless to change the channel. They are comfort food for the I-don't-feel-like-finding-the-remote-in-the-couch-cushions soul.
So here are the posters, and do you notice anything interesting?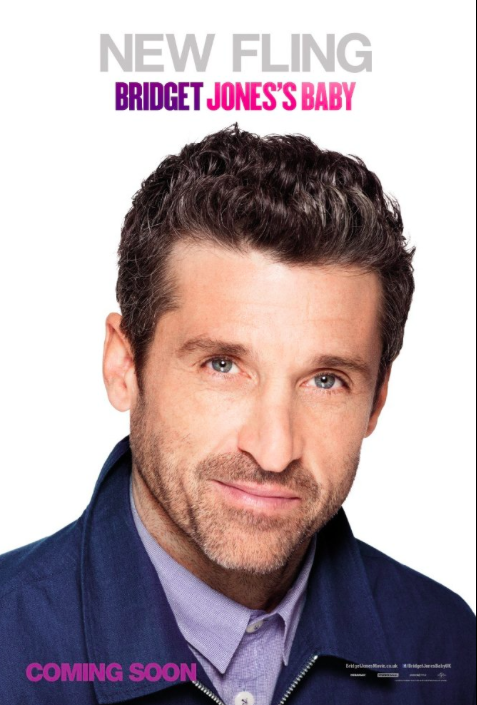 Poor Colin Firth has the nice title OLD FLAME right above his rapidly-greying head. This actually makes me super happy because it's usually a woman who would get the sly nod to her age in these things. I haven't seen a single thing about this movie that mentions the fact that our beloved Bridget is now pushing 50. Because typically in major mainstream movies when they select a love interest for a man over the age of 30, they pick someone much younger — like an 18-year-old — so I'm happy that they didn't replace Zellweger with Abigail Breslin or some other young'un.
When the sequel to BJD, The Edge Of Reason, was released, both Colin Firth and Hugh Grant were 44. Renee Zellweger was 35. Now Zellweger is 47 and Patrick Dempsey, her new love interest in the movie, is 50. Colin Firth is 55, and he can still get it. I don't think anyone can deny that, he's just a good-looking guy who looks good at his age. Nice try with the age-shaming movie poster making people, but it doesn't matter if Firth basically looks like he's as old as the Crypt Keeper, he can still put a baby in almost anyone. But speaking of putting babies into people, the whole premise of the movie is kinda silly because I'm 46 and if I could actually have any more kids and I got pregnant when I was 47 I would pretty much cry forever. I know people can have babies at any age, I just don't think I could do it. Or would want to do it, because I have zero interest in every changing a diaper again or dealing with a teething baby at my advanced age.
But I will still watch the hell out of this because it stars people my age and sometimes you just want a sweet silly rom-com to zone out to. Or else your remote is lost in the sofa cushions.